Corporate event bus hire
Brand your event with a bus — London red bus
Imaginative branding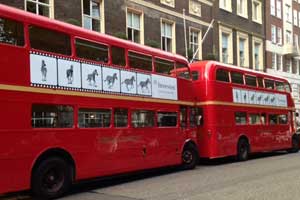 Routemaster Corporate Event Bus Hire helps you do both. Use our Routemaster buses to carry your event, your message and your clients.
Making the classic entrance
Connecting the symbolism of London, a world capital, with your brand is a powerful bond. Exploit it.
Our Routemaster double deckers — faithfully restored, reminiscent of a golden age — double up for an unforgettable passenger experience and on-board brand promotion. We go the extra mile for product launches, PR pizzazz and corporate hospitality.
Getting you there, stylishly
Our PSV-licensed drivers can drive your clients to your event venue, through London's streets, or round and about neighbouring shires.
We work with you on the route planning and arrange as needed:
a champagne service
photo opportunities
important landmark routes
alternative return routes
front of bus blind messaging
side of bus advertisements
external bus wraps or decals
We work with you on an itinerary and route that optimises your marketing objectives, staging stops for lunch, coffee or dinner. Your clients are our priority. We'll take care of them for you – and help you make sure you give them a reason to remember your brand. See our list of London tours
Why Routemaster Hire Ltd
We are a properly licensed operator, and are upfront in the way we operate our business. We have a very strict regime of vehicle maintenance, and members of VOSA (Vehicle and Operator Services Agency). We carry full insurance. We are particular about our reputation, and about:
well maintained, beautifully restored Routemaster buses
a wholly reliable service
cleanliness and hygiene on our buses
PSV licensed drivers
exemplary customer service
quality passenger experience
quality event organiser service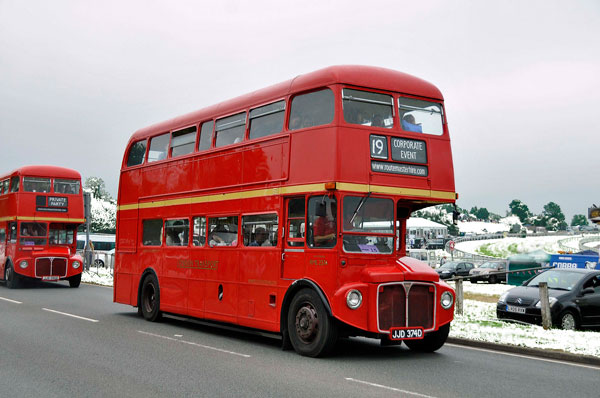 What our customers say?