Family and friends days out
Gathering together on special days out
Family occasions
We offer our beautifully restored Routemasters for all kinds of family occasions: anniversary parties, engagement celebrations, baptisms, coming-of-age occasions and even funerals to bid farewell to beloved family or friends.
We treat each occasion with courtesy and dignity to create an occasion you will be proud to remember.
The Routemaster, with its vintage advantage, seats 72 passengers, unlike the contemporary coach of 56.
Club days out
A to B, and fun in between – take our Routemaster to get your supporters and fans around.
Transporting your teams, medics, event organisers and club managers and administrators to the sports ground or stadium is as easy as ABC.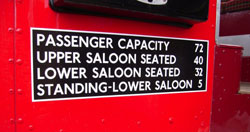 We work with your game plan, and get you to the grounds or venue without fuss, so that you can concentrate on members, players and winning.
We are a great alternative mode of transport for social clubs too. The Routemaster is perfect for bringing people together. We work out itineraries, routes, meeting points and logistics with your club secretary, and suggest good stopping off points for refreshment and comfort breaks.
Club hockey, rugby, lacrosse, cricket, swimming, athletics
Golf tournaments
Rugby
County cricket
Rotary, Lions events
Inter-club hobby competitions – bridge, scrabble tournaments, tea dances, mothers' groups
Family and friend fun days out
Formula 1 at Silverstone
Henley Regatta
Ascot
Group children parties to Legoland, Thorpe Park
School trips with a difference
Why bus with us
We take great pains in organising transport with a difference for your family or group event. Routemaster Hire Ltd prides itself on:
Safety for 72 passengers
Properly PSV licensed, Routemaster experienced, fully briefed drivers
Rigorously maintained vehicles, fully insured and registered
Authentically restored
Pristine cleanliness – no gum on the floor, no dirty seats