Prom bus hire
Hey party planners — it's Party Time!
Going that extra mile
We work out the details with you so that your prom bus hire party guests get the most out of the occasion. We suggest themes that incorporate parts of the city that have special meanings for your group. We go that extra mile to make your party the stuff of memories.
Re-uniting friends
Parties for family, friends or colleagues or club members promise happy reunions, fun times, high spirited smiles and forever memories.
Make sure everyone arrives on time — relaxed and ready to rock — and to roll when it's departure time. Transport them in a Red London double decker bus — safely and enjoyably through the streets of London, past landmarks of your choosing.
Proms and Balls
There's no better way to get 70 young adults safely and surely to a Prom Night or University Ball than by one of our Routemaster buses.
Consider us a part of your party planning process. We will take care of the logistics of getting school leavers and university students to and from the venue, giving them a ride through London's great past and fabulous present to enhance their evening.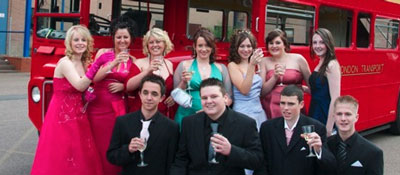 Why bus with us
Routemaster Hire Ltd has a corps of six Routemaster drivers, each passionately devoted to the Routemaster and an expert on London.
We treat your party planning with our customary care, attention to detail and organisational efficiency.
We don't take risks with your event — or our reputation. Routemaster Hire Ltd prides itself on:
Safety for 72 passengers
Properly PSV licensed, Routemaster experienced, fully briefed drivers
Rigorously maintained vehicles, fully insured and registered
Authentically restored
Pristine cleanliness – no gum on the floor, no dirty seats