Exhibition stands
Exhibition stand and hospitality
One stop bus stop! Double decker exhibition advantage.
We drive your eye-catcher of an exhibition stand right into the exhibition hall (NEC, Olympia, Excel) and park it for maximum visual leverage.
It's ideal for exhibitions — with its onboard mini seminar layout, hospitality, space for product demonstrations, merchandise bar. … the opportunities are endless. Our Buspitality vehicle, RML2498, is a traditional London Routemaster that we drive into conference centres, getting you to the heart of visitor traffic.
Buspitality for exhibitions
Our Buspitality doubles your exhibiting area. Apart from the whole of the upstairs (containing a private lounge area and a larger conversation area) and the bottom deck with a bar layout, there is also the outside of the bus at your disposal for promotional messages and branding.
You can entertain aboard, serving coffee, teas and refreshments.
How grand is that! If you hire a little more exhibition footage — we'll set up an awning to the side of the bus, and lay out garden tables and chairs, and mark off your area with hedging or picket fencing.
Why Buspitality
You will be noticed by the thousands of exhibition visitors. You have a 20 foot by 8.5 foot canvass at your disposal. You can brand the whole bus in a vinyl wrap, use promotional boards on the bus sides and other promo devices on the insides — both decks. We'll help you with the production of these.
We pride ourselves on our:
hygiene, cleanliness and high standards of maintenance
experienced drivers and event hosts
rigorous vehicle maintenance
full insurance
Lower deck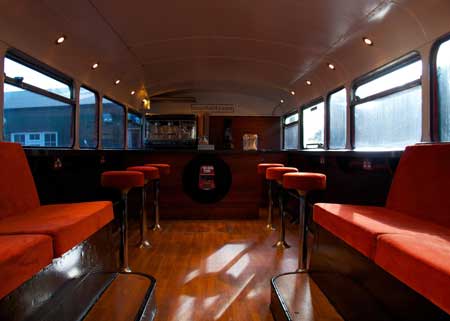 Banquette seating, bar stools and high bench tables replace the expected rows of bus seats. The area is wired for music or audio presentations and there are power points for mobile phone recharging, laptops and other small devices, powered by an onboard generator.
Top deck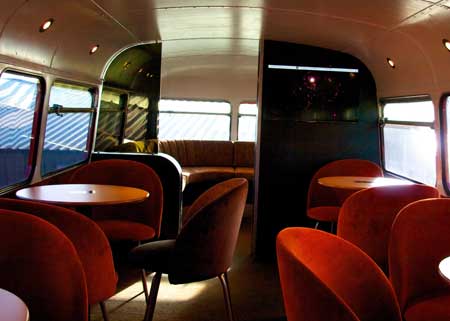 This area has been stripped to the floorboard and softly carpeted for a lounge area with tables and chairs conducive to discussions, private breakaway conversations, group negotiations, product demonstrations and media presentations. There are two large plasma screens, 4G networking and power points.